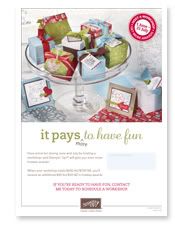 Stampin' Up! have just announced a FANTASTIC Promotion for June and July.
If you have a workshop during June or July which totals $600, you'll receive an extra $40 free...so that's at least a $110 shopping spree from the catalogue, plus a free Level 1 or 2 Hostess set too! What a fantastic deal!
So if you have a looooong wishlist, why not get a bunch of friends together and learn some new stamping techniques, and then have fun choosing some freebies too :o)
But I only have a few openings left in June and July, so email me now!